by scarwerod on Feb.14, 2018, under News Events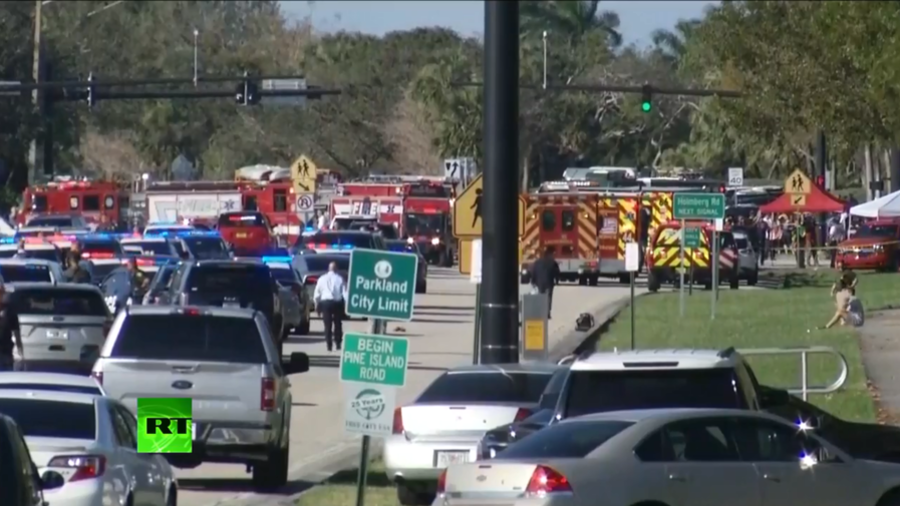 A shooting at a Florida high school has left at least 14 injured, with a senator and a school official saying multiple people have been killed. The suspected shooter has been detained.
Multiple ambulances, police cars and even armored vehicles have been deployed to the school, according to footage emerging from the scene.
Local TV station, WSVN, has reported at least 20 injured during the shooting, citing local Fire rescue.
At least 14 victims have been confirmed by Broward Sheriff Office.
The victims are being taken to Broward Health Medical Center and Broward Health North hospital, police added.
It is still not clear how many of the victims were killed and how many were injured.
According to Senator Bill Nelson (D-Florida), there are "a number of fatalities" as result of the shooting. "That's what I've been told by the school superintendent," Nelson told CBS News, adding that they were "in addition to the reported multiple injuries."
Broward County Superintendent Robert Runcie estimated that there were "numerous fatalities" in the shooting, calling the incident a "horrific situation."
There have been reports of at least seven fatalities, Jim DeFede, a reporter for CBS Miami, wrote on Twitter, citing a senior source with knowledge of the investigation. Those reports have not been officially confirmed so far.
"Police are working an active shooter scene, and ask that if you are in touch with your student you ask that they remain calm and barricaded until police come to their room, this is for everyone's safety. Do NOT call our 911 or non-emergency number unless it is an emergency," Coral Springs police said on Twitter.
The Broward Sheriff Office has confirmed the shooter was taken into custody, while law enforcement continues working at the scene.
Sheriff Scott Israel dismissed earlier media reports that the gunman was a student of the school. "He was not a current student," Israel said, adding that, according to preliminary reports, the shooter used to attend the school but left some time ago. "I don't know why he left, I don't know when he left," he said. Sheriff Israel said the suspect "was taken into arrest without incident."
In footage from the scene police officers were seen collecting backpacks from the students escaping the school and piling them up in the middle of the road.
One of the school's students, caught up in the shooting, has posted pictures from a classroom where he and his fellow students are hiding behind desks.
He later wrote that students were allowed to leave the building.